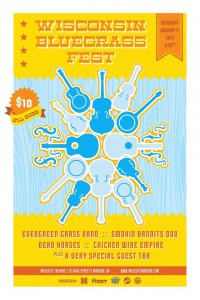 Beard weather and bluegrass music are upon us. Saturday January 11th a slew of phenomenal bluegrass acts will descend on the Majestic Madison Theater in Madison, Wisconsin for a fun-filled night of stringband music. The Dead Horses, The Evergreen Grass Band, Chicken Wire Empire, and The Smokin' Bandits Duo (plus a special guest to be named later) will surely test the towns whiskey supply. Not much more to say about this, it's going to be great. $10.

Check out the official event page.
I will leave you with a new video from The Dead Horses: Eureka Bridge. I know you will enjoy it.