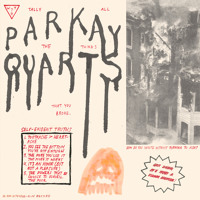 One act I've really enjoyed in 2013 is Parquet Courts. Their album Light Up Gold is great, and a new EP is on the way. Check out its first single, "You've Got Me Wonderin' Now."
If you stop and think about it, this EP may not even be necessary. Parquet Courts could easily just ride out the momentum and buzz they gained from the release of their album at the beginning of the year. It says something, then, that they have chosen to not be content and instead keep pushing forward before the dust even settles – or more cynically, until anyone gets sick of them. Whatever the reason, it's another quick blast of high energy, witty garage rock with this track, and while it doesn't feel much of a departure from the full length, it surely will not disappoint the fast growing group of fans they have gained.
It's worth visiting the Soundcloud page to read the lyrics because they come so quickly you may not grasp them. It's an eviscerating tune. The narrator has clearly been hurt by someone and conveys it in an interesting way. The title of the EP comes from the track: Tally All the Things That You Broke, so perhaps the other songs will be similarly scathing about heartbreak and pain. Or maybe they won't be. You can find out for sure when it comes out 10/8. Pre-order here. There will be an EP release show 10/2 at Music Hall of Williamsburg. Tickets here.