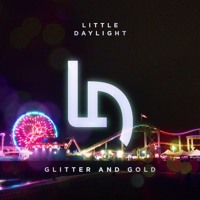 In anticipation of their debut EP, Little Daylight has released their third original single "Glitter and Gold."
This band is getting a lot of love on the blogs and feels poised to take things up a few notches with the 8/6 release of a body of work called Tunnel Vision. The EP collects previous singles "Overdose" and "Name In Lights," this tune, and two others as yet unheard. It fascinates me to see how Little Daylight has steadily grown in basically just one year, but in a totally intentional, controlled way. They are sort of like the Oklahoma City Thunder of indie synth pop. It starts with a little luck and making good decisions, like drafting Kevin Durant (and later, Russell Westbrook, James Harden, and Serge Ibaka), then building up your own assets naturally, patiently building a winning culture, valuing character and "fit," and allowing the talent to blossom – which it inevitably does with this type of deliberate approach.
Though a different forum, Little Daylight has done something very similar. They first developed their name making remixes of bigger acts, ones whose audiences would likely be interested in their original music. They have impeccable branding with a very aesthetically pleasing logo and design scheme, used for each release, making them feel like part of something bigger and conveying their sense of purpose and style. Their talent became evident with their brilliant original singles that, while all fall under a specific musical umbrella, demonstrate different nuances and skills. In short, they are becoming a "winning team" like the Thunder by trusting themselves, being smart, and allowing their gifts to flourish. And like the Thunder, they seem to be "ahead of schedule," they are a joy for fans, and they are brimming with promise. I'd place them roughly at the first season they made the playoffs ('09-'10) or maybe their next year run to the Western Conference Finals ('10-'11). Either way, it's that special time when you see something growing right before your eyes, something you know will become even better. The future is bright, but these ascendant moments ought to be enjoyed, too.
If "Overdose" was their brazen, take it to the hoop/club jam, jolt of energy Russell Westbrook, and "Name In Lights" was their change of pace, second unit anchor/second single James Harden (I know he's gone, but they are still in the pre-Harden trade phase…), then "Glitter and Gold" is their true superstar Kevin Durant. Like Durant's innate ability to make baskets in just about any fashion, it feels like a song that came from someone simply born to do it. Seeing him or hearing them, it's hard not to feel like it comes effortlessly. Just a bit longer than three minutes, it's a smooth rush that I like to think of as full-on pleasure center music. I can barely say why I like it or what might meaningfully distinguish it from other songs or artists of this style; all I know is that when it's on, I completely dig it. There is warmth that surpasses its entirely electronic musical foundation. And Nikki's voice is to gliding over this sonic bedrock as DMX's is to barking: it just works.
Perhaps the main distinction from their previous two tracks is that it seems to be the most positive lyrically. It's one of those "Got your back, you're ok" type songs. The chorus reminds a listener "You're glitter and gold, you just got to let go. Tonight you're electrical, unchained like an animal." I like the line in the second verse "One you and a million them," plus there's the equally encouraging "It'll be alright if you close your eyes, you own the night." May not be incredibly deep, but if this song is going to be heard and loved by so many, it's a good message to spread. It's upbeat in sentiment and sound, particularly aided from the verses effectively building energy by adding those extra drum beats on 2 and 4 for propulsion and the chorus after the bridge, adding extra layers to make it bigger. Quite the song.
They play August 1st at Santo's for those of you in NYC, but for everyone everywhere, the EP is out 8/6 and it should be a great listen (you might already be into 60% of it). Best of all, I really think Little Daylight is nowhere near reaching its full potential.