Lake Street Dive, the blossoming quartet from Brooklyn, is about to release a new album, Bad Self Portraits. If you are unfamiliar with the group you owe it to yourself to check them out. Their sound is both timeless and modern. Spot on, funky, jazzy instrumentals and crystal clear, powerful vocals shoot them to the top of my current touring bands to see.
From their website:
The new album, Bad Self Portraits, which is being released by the Northampton, Massachusetts indie label Signature Sounds Recording as the follow-up to a self-titled debut and subsequent EP, is a microcosm of Lake Street Dive's evolution of the band from "a weird alt-country jazz group to a pop-soul juggernaut, that turns '60s influences like Brill Building girl groups ("Stop Your Crying"), British Invasion rock ("Bobby Tanqueray"), horn-driven Stax R&B ("You Go Down Smooth"), Motown soul ("Use Me Up") and even The Band-like gospel blues ("What About Me").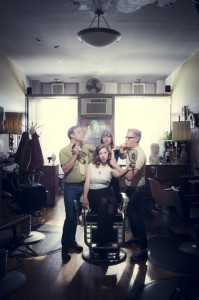 Lead singer Rachel Price has full control over the audience and in my opinion her charisma is unmatched. She sings with a soul well beyond her years, and exudes confidence in as humble and endearing a way as possible. I would rank stand-up bass player Bridget Kearney as one of my favorite bassists of the moment. I have now seen Lake Street three times, twice at the always wonderful Great Blue Heron Music Festival, and once in Madison, Wisconsin at the Orpheum Theater where Lake Street Dive opened for The Yonder Mountain String Band. At this show one of the moments that stands out in my mind was a duel solo, Bridget and Ben Kaufmann playing a single stand-up bass. She is electrifying.
This is not to take away anything from the male half of the group. Mike Calabrese (drums) and Mike "McDuck" Olson (trumpet, guitar) are no slouches, and round out the sound perfectly. Take a gander at this live acoustic recording of the title track Bad Self Portraits and judge for yourself.
Also from their website:
It took a casually made video featuring the band gathered around a single mic, performing a cover of Jackson 5's "I Want You Back," shot on a Brighton, Massachusetts, street corner to grab the public's attention—its YouTube views now hurtling past a million views. –http://www.lakestreetdive.com/bio.html
One of my New Years Resolutions is to stop overselling things so I will leave you with one more video. I predict huge things from Lake Street Dive in the (near) future. In just a few short years they went from a noon slot on a Blue Heron side-stage to headlining an international tour. They are clearly a band on the rise.
Photos from lakestreetdive.com