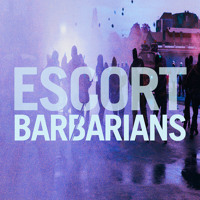 Who's ready for the long weekend? I know I am. If you need a song to get a party started, look no further than "Barbarians," the latest single from the modern day gigantic disco band Escort.
Last year, I had a surprising disco phase. Spurred on by reading Hot Stuff by Alice Echols and watching Saturday Night Fever for the first time, I explored some of the classics of the era. I also came across the self-titled 2011 record from Brooklyn's Escort, who are essentially a modern day disco band. The record is very good, spawning an incredible music video featuring Muppet Show footage, and it's nice to hear their brand new track "Barbarians." Escort just knows how to create an insatiable, assured groove. Great percussion, cool horns, rhythmic guitar playing, and excellent vocals. The title is inspired because it taps straight into our primal urge for movement and dancing. How can you not want to after listening to this?
The song will be issued as a single on June 25th. Besides the single, there will be remixes by CSS and Rance Muhammitz and an extended dub. I have heard Escort is incredible live and guess what? They play tonight at Music Hall of Williamsburg. Tickets and info here.