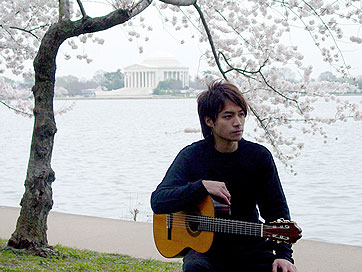 The word virtuoso is defined as, "a musician who is a consummate master of technique and artistry." or "… an individual who possesses outstanding technical ability at singing or playing a musical instrument."
When I decided to that I was going to be a serious (classical) musician, I regarded this word with esteem and respect. I saw the aspiration for virtuosity as a means of achieving self-actualization, and decided to dedicate my life towards this realization. However, like so many things, after six years of conservatory training the shine wore off this word and I fear that I have lost my reverence for the beautiful. After all, art is the habit of the artist. Nevertheless, it is my intent to use this platform to (re)discover, admire, and share music/musicians of the highest caliber, in any and all genres, strictly for the purpose of listening to Music worth listening to.
Yasuji Ohagi: Jacinto Chiclana
Yasuji Ohagi is one of my favorite young classical musicians. He has an adventurous taste in programming, prodigious output, musicality in spades, and a keen eye for the visual side of his brand. He began studying (note the intentional use of the verb studing as opposed to playing) the guitar at age eight and later completed his academic training in Paris at both L'ecole Normal de Paris and Conservatoire National Superieur de Music de Paris.
This particular cut is found on his album Bleu and was composed by the Argentinean tango master Astor Piazzolla. What I enjoy most about this recording is how exposed both he and his music is. Even before you hear the first note you can hear the artist inhale.
I think that the general musical civilian population has become numb to classical and jazz as a result of our culture perpetually bombarding us with pop music that is so dominated by lyrics and vocals that we no longer understand how to listen to instrumental music. Don't agree? Name a single instrumental top 40 hit from the previous 20 years.

In addition, I believe that as a result of this we often forget that this music is being produced by a human being who approaches it with their own set of cumulative emotions, interpretation, and technique. Yasuji's audible breath at the start of this recording is a welcome reminder that this music is alive, and it is just like you.
Beyond this, the clarity and direction of the phrase is another remarkable facet of this performance. He takes time to allow his ideas to breath at the end of musical statements and his sense of push/pull within within each phrase is spot on. Moreover, his melody is always in perfect relief to the accompaniment (remember this is one guitar performing multiple voices) and his tone color is enviable.
I love tango. I love the guitar. And I dig Yasuji Ohagi.
You Dig?
Please support this artist by purchasing his music and/or seeing him in concert. A link to his music on amazon is found here.