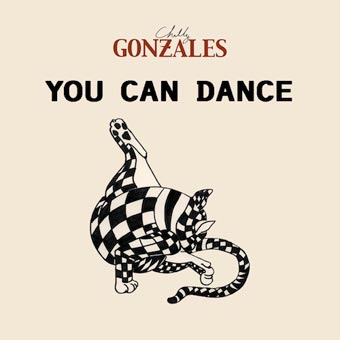 Label Year is a feature in which I purchase all of the releases of a given record label for an entire calendar year and post on each one. 2011 will be devoted to Arts & Crafts out of Toronto. For more info, check out the introduction.
Details:
Artist: Chilly Gonzales
Title: "You Can Dance"
Format: Digital Single
Release Date: 03/01/2011
Catalog Number: ACX064
Let me take a moment to get into some technical (i.e. geeky) details. Arts & Crafts is pretty straightforward with their catalog numbering. Every album has a number starting with A&C then a 3 digit number that progresses chronologically – at least from point of release on the label, because there are some reissues. Other releases, such as digital singles or 7 inch records start with ACX and are close to chronological, but not quite. So now you know.
Chilly Gonzales – You Can Dance by Arts & Crafts
On to Chilly Gonzales. I heard he took his name after being mistakenly called it by a complete stranger. I dig those sort of happy accidents. "You Can Dance" is a track from his latest full length Ivory Tower, which came out last October. Whether you consciously are aware of it, you almost certainly are familiar with Chilly. Another track from the album, "Never Stop" was used in an iPad commercial. I'm sure just about all of you have heard that. (Just Google it). "You Can Dance" is another catchy jam. It features keyboards, synths, and some snappy percussion. And very communal vocals, I really dig the moments when what sounds like a whole room of excited people go "Whoa!!" It's the little things, am I right? The lyrics are simple but powerful. It's about dancing. That's obviously literal but I think it's metaphorical too, in a sense of general empowerment.
Besides this track – and a "radio" version truncated for time as well as profanity – there are five different remixes. The remix artists are: Shadow Dancer, Robotaki, Cosmonaut Grechko, Edwin Van Cleef, and Popular Computer. Remixes are not something I seek out or involve in my regular listening habits. Certainly not to the level of listening to five in a row at least. So the experience was pretty fresh to me. I can't say that I'd like to hear every song remixed five times (and that doesn't even get into the other versions floating around the Internet), but it does fascinate me to hear how people alter things to put their own stamp on someone else's work. Seeing what remains and what changes is, in a way, more tangible evidence of a song's strengths and weakness than you might determine from just talking or thinking about it.
Some remixes didn't work as well for me as others, but I believe that the Popular Computer Remix is the most distinct from the original. Its instrumentation really seems to change the melodic sense of the song. My favorite is the Robotaki Remix. It makes the already kinetic track even more dance floor-worthy, but it also has some dynamics – it's not just a pulsating, monotonous beat as some "remixes" seem to be. My shortcomings as a music blogger are coming to the fore here by not knowing the proper nomenclature, but I love the effect that makes it sound like the music is fading in and out, as if through water or something. What is that called actually, can anyone enlighten me?
Chilly Gonzales – You Can Dance (Robotaki Remix)
I have not listened to the rest of the album this comes from, so I can't speak to this single's ability to represent that work, but I can say as an introduction, it definitely makes me want to get Ivory Tower. Thinking about the larger aesthetic of the label, Chilly Gonzales clearly broadens it. It's still too early in the series (get used to me saying that) to have a definitive sense of things, but compared to Chikita Violenta, this brings more diversity of sound with its dance pop and electro sensibilities.
What do you all think of remixes in a general sense? Do you have a favorite one of "You Can Dance?" Think this song should also be in an iPad commercial? Anyone have any feedback on the album? Let me know what you think.
Chilly Gonzales's website is here. You can buy the single at GalleryAC, iTunes, or Amazon. Below, check out the video for the song and info on the next installment.
Next: Memphis – Here Comes a City
Previously on Label Year:
Introduction (link at top of page)