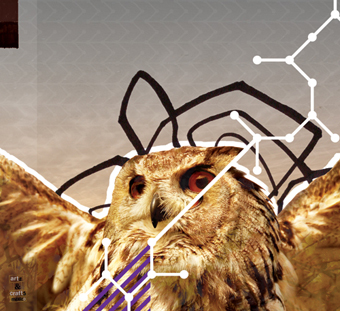 Label Year on Arts & Crafts gets started in earnest with a review of Chikita Violenta's Tre3s. If you missed the introduction to the feature, check it out here.
First, some background details:
Artist: Chikita Violenta
Title: Tre3s
Format: Album
Release Date: 01/25/2011
Catalog Number: A&C059
I am happy to get this Label Year feature started and I suppose it is somewhat fitting that the first post is on a band making their Arts & Crafts debut. Chikita Violenta's Tre3s is their third album (as the name seems to imply) but first for the label, and is in turn the label's first by a Mexican band, showing Arts & Crafts' commitment to bringing listeners great music from all over North America. I know A&C has Canada, especially Toronto, down, and I was excited to hear the fruits of this expansion, as the Mexico City scene is one I know pretty much nothing about. I have always been fascinated by the geographic implications of music, so all of this was very much on my mind going into the record.
Listening to Tre3s makes me think that Chikita Violenta is a good bridge between the Mexican scene and an existing Arts & Crafts aesthetic. One thing I am hoping to get a better sense of by doing this feature is how much the label's releases sound similar or different as a larger body of work. It is simply too soon to tell, but to me, this release at least falls more on the side of the familiar. That isn't a bad thing because I am a fan of the sound, though I am a little disappointed that this isn't quite the horizon expansion I imagined it could be. Of course, much as A&C's origins were a way to release records by Broken Social Scene and associated projects before branching out to other diverse local artists; this could very likely be the beginning of a similar arrangement in Mexico City, with plans to establish relationships with local talent for a pipeline of future releases. It makes sense then, that Chikita Violenta would be the ambassadors, with their physical connections to Mexico and their sonic connections to bands like Broken Social Scene.
Those connections are largely due to having shared primary musical influences and the same producer. (Also, a few A&C people contribute – most obvious is BSS's Lisa Lobsinger on vocals, but The Most Serene Republic's drummer is here too). The opening track, "Roni" has a strong 90s indie distorted guitar tone, particularly in the break after the first chorus. Major Pavement and Dinosaur Jr. vibes there. The album's producer is David Newfeld, who has done other A&C releases including several by Broken Social Scene, as well as Apostle of Hustle and Los Campesinos! Anyone who has listened to those albums will recognize common touchstones here. Things like lots of layers of instruments and shifts in style, tone, and dynamics within and between songs. I've always been drawn to David's crazy ability to find balance between fracture and cohesion, and this skill is at work throughout Tre3s.
Chikita Violenta – All I Need's A Little More by chikitaviolenta
While this album is an enjoyable listen, my complaint would be that it feels a little slight. The run time is brief and there is a stretch between the middle and the end where it kind of drags. It's more apparent because when everything gels and the band shows its full potential, you know they are capable of special things. I'm talking about a song like "All I Need's a Little More," a highlight of the album. First, its driving, percussive handclaps and drums seem to have a little bit of a Latin feel, lending a unique shade to the song that I'm happy to hear. The stereo effects of sounds cutting in and out and side to side give it energy too, which carries into later verses. Then there's the chorus, which just blows everything open to anthemic proportions. I dig it. My other favorites include "Tired" and album closer "My Connection," which has some nice harmonizing. (There is a closing bonus track on at least some versions of this album called "Laydown," which is also really good).
Tre3s is by no means a classic but is a solid entry to the A&C canon. I have heard the band is excellent live and I do think they will continue to improve on future releases.
For discussion if people are up to it, I'm curious what you think in regard to how this compares to other releases on Arts & Crafts – familiar vs. different, good addition, etc? I'd love to hear feedback on the Mexico City scene if anyone's knowledgeable of it. How does Chikita Violenta fit? What indigenous sounds may the casual listener not be aware of? Any other bands you can recommend? And for those unfamiliar with Mexican music and A&C, what do you like about Chikita Violenta and why? One last thing: the band sings in English. I don't think there's any mandate a band has to sing in their native language, but I admit I'm curious what it would have sounded like to hear one song sung in Spanish. What do you all think?
You can check out Chikita Violenta's website here, buy the album from Arts & Crafts here (or on Itunes or Amazon). Check out the video for "Roni," below, as well as the next release in the series.
Next up for Label Year: the digital single "You Can Dance," by Chilly Gonzales.