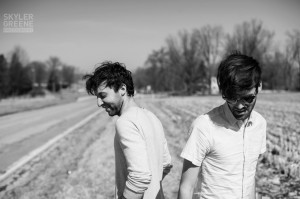 Sometimes, you just can't make it to show as much as you'd love to. As a local musician, I hear a lot of really sad excuses for not making it to shows, but I promise, I've got a good one for not making Carousel and Cherub at Turner Hall Ballroom tonight. You see, I stay busy, and getting married at the end of this month doesn't alleviate the schedule. The bachelor party is today, and if my best man does things right, I wouldn't remember the concert even if I made it. Oh well, I at least had a chance to check out their music, watch their videos, and chat with the Kevin from Carousel and ask some questions about the band.

What elements of your music do you consider traditional? What do you consider innovative?
Our song writing is rooted in tradition.  We listened to a lot of mainstream rock when we were younger.  I think we subconsciously write in a rock/pop song format as a result of that.  In college, we nerded out on harmony and music theory all the time.  It always comes out when we produce our music.  We get a kick of that stuff.
The innovation comes to play when we combine our traditional song writing style and meld it with contemporary production.  We make everything out of our apartment.  With every new song we produce, we're always experimenting with different sounds, instruments, samples etc.  We also love all the new wave/punk music out there.  We like to create uptempo tracks in that style, but use all electronic production.  You can really get some great sounds like that.
What do you prefer about working in the studio? What do you prefer about playing live?
Working in the studio is what we live for.  We'll normally wake up fairly early and produce music till it's dark out.  Nothing is better than creating a song from scratch.  Taking all your thoughts and emotions and letting them pour into a track.  There's a great sense of freedom while making your own music.  You can really do anything you want, it's limitless.
Playing live is an adventure in its self.  Every night is different, and you never know what kind of show it'll be.  There's something quite surreal about playing in front of a large group of people.  The dynamic between the audience and us.  Bringing the energy up, and taking it down.  I like to think but not think, as if I'm in a trance-like state.  Currently we're on tour with a band called Cherub.  The shows have all been amazing.  So much energy.
What have been some of your most frustrating musical moments? In the end, what compels you to keep making music?
Music can be frustrating when thinking about it like a business.  It's something that doesn't cross your mind when you first get into it.  However, in order to pursue music as a career one has to be conscious of the business side of it, and know the ins and outs.
We continue to make music because we love it and are able to make a living at it.  We write songs everyday and get to travel the world, it's a good job.  Whether people are listening to our music or not, we're going to keep writing songs.  There's nothing else I'd rather do.
-Kevin
Kevin, I hear you, I also stay up way too late working on music in my apartment because that is just the best feeling in the world. Thanks for chatting!
If you're not out celebrating your last few days as a legally single person, you should make it to the show. Doors open at 7 at Turner Hall, and tickets are available for only $15. I think it'll be a really mellow sort of electro-pop fun, so be there!