Dig Sessions are just an excuse to get out into the world, make friends, and document music. We are trying to capture all music, of all genres and musicianship levels. In our modern world of iPods and mp3s it is easy to forget that not so many years ago if you wanted to hear music you had to either play it yourself, or watch someone else play. That is the soul of The Dig Sessions, watching people play music. Single takes, no gimmicks. Just a microphone and a camera capturing REAL music with all its beautiful imperfections. View all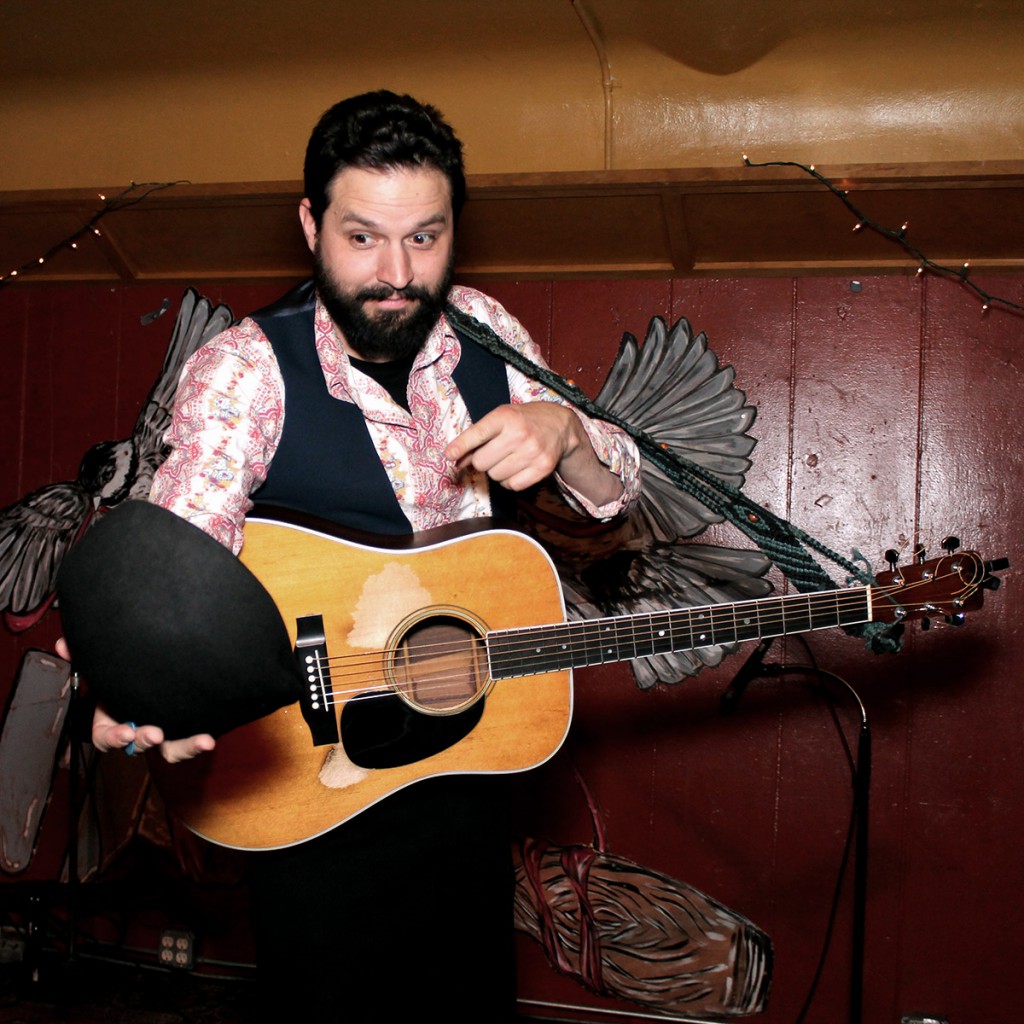 I've said it before and I'll say it again, I love writing for a music blog. This time it was Robert Sarazin Blake under the proverbial lights playing his music for all you to hear. I was embarrassingly unfamiliar with Mr. Blake. Kent came to me and said he had a good candidate for a Dig Session so I proceeded immediately to the interwebs where I did my best to become acquainted with his cannon. His recorded music is great, but his live performance was wonderful.
He opened his Riverwest Public House show with a sort of talking blues; his commentary on a group of stage left attendees and their rumor mill of sex gossip (will this post get better SEO because I used the word sex?) After suggesting that the East Side would be a better venue to stand by the stage and talk he broke straight into
Zoe's Been Drinking. I was hooked with the line…
"The last time I saw her out on the town she had all four sheets in the wind."
Maybe it is just me but I feel that it is increasingly difficult to find a truly great on-stage storyteller. Making small talk while you are tuning is becoming the norm. Robert's set was speckled with funny, relatable, and well delivered stories that accented his music. Stories of protests in New York City and the changing times. He even adeptly navigated his way though a broken string, and for a solo act this isn't always an easy task. The set ended with him standing on the bar singing unamplified to the crowd. He is a true showman.
Before the show we were lucky enough to record two songs with Robert Sarazin Blake. The first is entitled Butte, MT and falls right in line with one of his major motifs, the ever-changing world. He had just traveled across the country on a train, all the way from Bellingham Washington, the Northwestern most city of the Northwestern most state in the lower 48.
He likes to travel that way, complete with spotty cellular service and limited distractions. It gives him time. Time to think, time to write, time to disconnect from the barrage of technology that rains down on us in this, the year of our lord, twenty-fourteen.
"Isn't it amazing what they're doing with plastics, if I had of known better I'd of thought it was wood." — Robert Sarazin Blake
As a bonus, because he has it on his Bandcamp page, here is the song I mentioned earlier: Zoe's Been Drinkin'.
[bandcamp width=100% height=120 album=1081319256 size=large bgcol=ffffff linkcol=0687f5 tracklist=false artwork=small t=7]

Head over and support Robert Sarazin Blake. Here is his Facebook page and his official website. As always, I can't thank everyone enough for reading. I hope you enjoy it. If you or someone you know is doing great thing with music and you think they would be perfect for a Dig Session let us know.